Curlee – Hayes Farm
Defiance, Missouri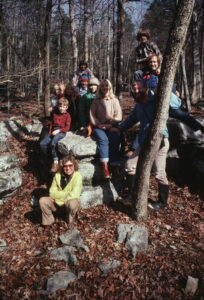 Participants (14):
Curlee Amos, Curlee Durb, Curlee Ellen, Curlee Lil
Lang Eddie
Mitchell Ben, Mitchell Luke, Mitchell Mimi, Mitchell Sam
Mullins Janet, Mullins Shannon
Schwabe Andy, Schwabe Mary, Schwabe Rob
This 1100 acre tract of land is located along Missouri bottomland and is saturated with history and lore of Lewis and Clark and Daniel Boone. It is likely that this tract was part of a larger tract deeded to the Boones via a Spanish land grant prior to 1803. It is near the present day Katy Trail and the Weldon Spring Ordanance Works, the largest producer ofTNT during World War II. The preponderance of Fremont's leather flower throughout the property suggests a locally high dolomite concentration. In 1973 the farm was one of the places used in the filming of the movie Dirty Harry.